Safety Protocols
---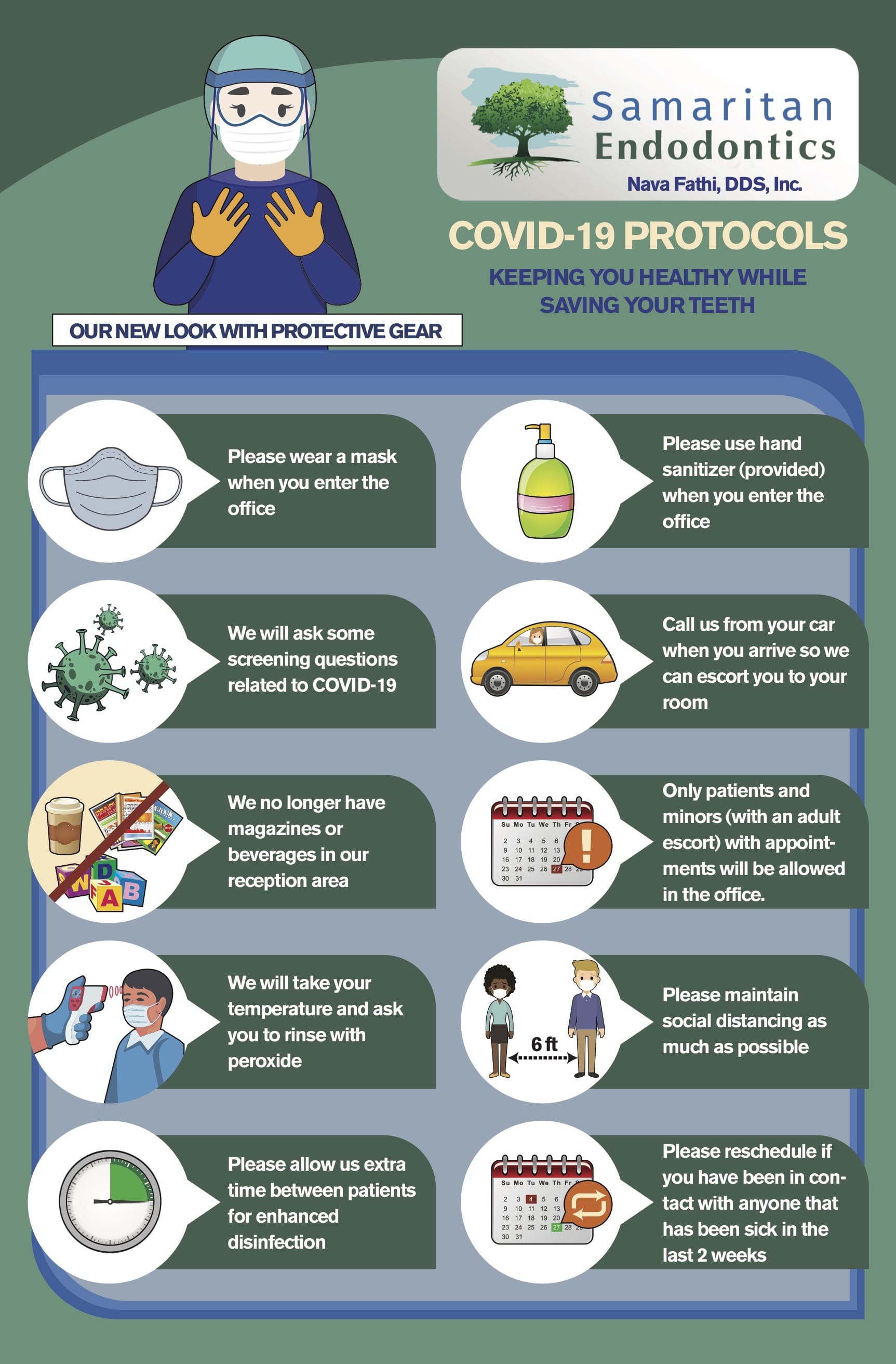 ---
For Patients who require acute endodontic care; please be reassured we are taking all precautions to protect each other.
We will ask some screening questions related to COVID-19.

If you or your family member have had any recent travel outside of the country or have come into contact with anyone who has tested positive for COVID-19, please call and reschedule your appointment.

We have adjusted patient scheduling to enforce social distancing and to enhance disinfection.

We ask that you wear a mask to your appointment.

Please use hand sanitizer (provided) upon entering the office.

Upon arrival at the office, we will take the temperature of our patients and if it reads 100 degrees or higher, we will reschedule the appointment.

Upon arrival at the office, we will ask our patients to rinse their mouth with hydrogen peroxide and to wash their hands for 20 seconds before they are seated in the treatment room.

Patients are brought immediately into a disinfected room, with no waiting in the reception area.

We only allow one individual in the reception area at a time.

The reception area is being repeatedly disinfected, and w

e no longer have magazines or beverages in our reception area.
Call us from your car when you arrive so we can escort you to your room.

All family is requested to wait outside or in their vehicles, and we are calling them once their loved one's care is complete.

Only patients and minors (with an adult escort) with appointments will be allowed in the office.

The endodontic team is wearing the appropriate PPE (Personal Protective Equipment) including surgical head caps, surgical masks, gloves, eyewear, and gowns.

We are going to minimize our team's physical contact right now with patients and families, so we have asked our team members not to shake hands or hug.

Although not required, we will be utilizing medical grade purifiers to help purify the air in our office.
Here are the links for the California Department of Health and the CDC:
https://www.cdph.ca.gov/Programs/CID/DCDC/Pages/Immunization/ncov2019.aspx
https://www.cdc.gov/